Talk show of temporary exhibition "Akita tradition industrial art object exhibition"
Aoyama square blog
2018/1/26 Friday
exhibition information
Talk show of temporary exhibition "Akita tradition industrial art object exhibition"
Temporary exhibition "Akita tradition industrial art object exhibition" begins in Aoyama square from today,
Annual talk show was performed from 14:00.
At first we had you talk from Takashima.
Officially designated Traditional craft products which country appoints in Akita,
There are Kawatsura Shikki, Akita Sugi Oke Taru, Odate Mage Wappa, Kaba Zaiku and four.
髙shima specializes in Kaba Zaiku,
We had you talk about Akita Sugi Oke Taru, Odate Mage Wappa.
According to the name as for the Akita Sugi Oke Taru,
There are pail and barrel.
Pail does not have cover,
The feature is that there is cover in barrel.
For how to make,
Thing to let you collect boards of natural cedar, and to make container.
In contrast, Odate Mage Wappa,
That bend board of natural cedar, and make; is different.
Both are made with natural cedar,
Because it is limiting felling of natural cedar now,
We told that there was trouble to obtain materials.
In addition, without reversing pail and barrel and bentwood ware after having finished using,
It seems to be the best to dry with the same state.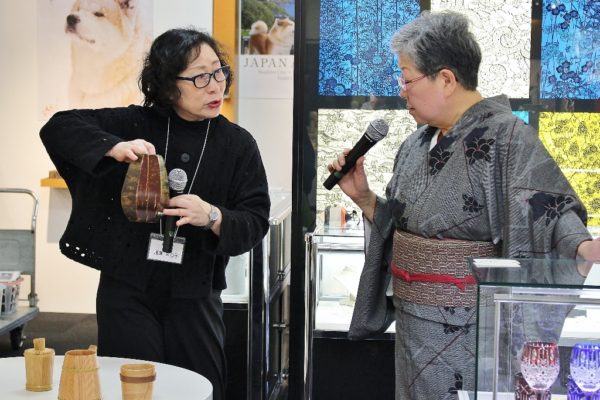 Kaba Zaiku is made using the bark of wild cherry tree.
As for the part which design is over,
Part becoming reddish brown is the bark both,
Design to show whether cut is slight, or it is deep seems to change.
It is tea caddy to be popular in Kaba Zaiku most.
Thing using for base is not metal,
It is bare wood such as trees of paulownia and one.
Because it becomes premise that vases pour water,
Unlike tea caddy, coating is given to be able to get wet.
As how to distinguish products good again,
When thing which thing and red that fushiaiga was large were given to equally was good-quality Kaba Zaiku, he/she told.
We heard story from creator of Kawatsura Shikki successively.
Kawatsura Shikki smokes horse chestnut and beech, and achieve quality of wood effect,
Finally, the feature is that we do final coating of lacquer.
Final coating of lacquer is to dry without polishing after having painted with lacquer, and to finish,
It may be said that high technique is necessary.
Kawatsura Shikki is division of labor system,
It is made with bare wood and is made with base and is divided into coating, four of decoration (lacquer work, lacquer inlaid with gold),
Sato is doing groundwork - coating.
Least one is lacquer inlaid with gold now in this,
There being only five people that serious one makes bare wood.
It seems to be becoming problem in Kawatsura Shikki now.
Here Sato,
You were able to show other production centers few interesting thing.
Because it is said to be mushrooms cup,
When break this down; ...
How do you use mushrooms cup?
Each person has five cups.
And somebody throws the dice,
Thing that person having cup written to eyes which came out drinks liquor.
(but there is method to be idle by small number of people. As for the method that we take cup of eyes which throw the dice, and appeared and drink each other. To watch out to drink too much)
As there are six roll in total,
One of those has thing written as "art",
When the eyes appear, playing that person who threw the dice does art enters.
Letter of "art" becomes available now,
Letter called "poetry" (beat) becomes available in old days,
We sang poetry.
We are popular as overseas souvenirs,
It is product which is sold in the country.
As how to handle product using lacquer including Kawatsura Shikki for,
Always use the best one well.
If it keeps on putting in the box, and putting,
It becomes early to ache.
We wash with errand, tender sponge or acrylic woolen yarn well,
In drying well,
We are gradually polished to lacquer and seem to be shiny.
Color taste has many vermilion and black, ryuto, rubigo,
You said that many colors increased recently.
Two people who had you talk this time,
We exhibit by temporary exhibition "Akita tradition industrial art object exhibition" until February 7.
As there are demonstration and experience during exhibition period, too,
Please come to play to Aoyama square.