Talk show of "Traditional Craft of Shizuoka" and "Agano Yaki"
Aoyama square blog
2018/6/1 Friday
exhibition information
Talk show of "Traditional Craft of Shizuoka" and "Agano Yaki"
Artisan corner "joya*shukamasaku*ten" began on today with temporary exhibition "traditional industrial art object exhibition of Shizuoka" in Aoyama square.
As, from 14:00, annual talk show was performed,
We tell about the state.
At first we heard story from Sano of Suruga lacquered getas which had you demonstrate today.
When we match traditional industrial art object of prefecture designation with Officially designated Traditional craft products of country designation in Shizuoka,
There are 22 items in total,
12 items of those are in Shizuoka-shi.
Lacquered getas are industrial art objects with production center in Suruga, too,
Not only we match with yukata, but also seem to be making lacquered getas which match jeans now.
In comparison with that purpose old days,
You said that it increased to produce showy lacquered getas.
Suruga lacquered getas are division of labor systems,
Sano works as painter.
We were divided into sketch coat and dyed figure on cloth coat in old days,
We came to do both alone now.
Only four people break current creator,
Furthermore, because woodworkers decrease,
It seems to be in condition that I do not have future outlook even if we learn technique as painter.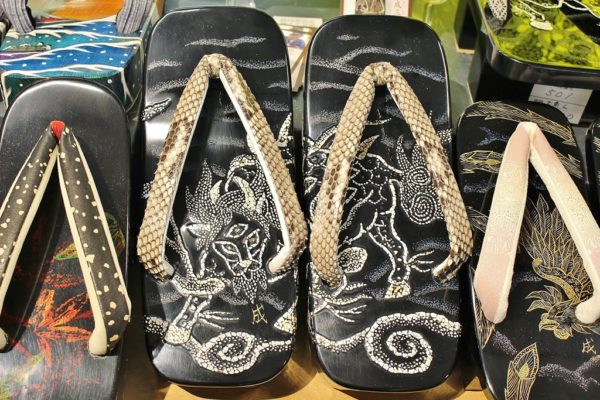 Design to take to Suruga lacquered getas,
There is not rule in particular,
We receive request of customer and often describe.
We are often asked for design of dragon and Chinese phoenix by man,
You said that you described painting of mascot well.
In addition, after hearing care for Suruga lacquered getas,
It is not necessary to do that is special, "it is lacquered getas",
We wipe with dry cloth if we get wet in the rain and,
We only dry in the sun,
There does not seem to be problem.
Sano in technique of lacquered getas,
We are good at rankakucho,
For technique that almost none of other people is doing,
It was said that it was rare, and customer said that it was popular.
We heard story from Kamiya of Suruga Takesensuji Zaiku next.
Kamiya you in the days of eleventh grader,
National convention that DENSAN Association performs every year holds in Shizuoka,
When we went to visit, we meet Suruga Takesensuji Zaiku,
We entered this world.
Bamboo was an immediate person,
When it became form as thing which was so delicate, we seemed to be shocked.
As for the creator of Suruga Takesensuji Zaiku, most were men in those days (still).
To such Kamiya who hoped for apprenticeship in in women and the teens inside,
It is said that rotation was not able to cover surprise.
Betray eyes of the circumference that you may leave immediately,
We are playing an active part as creator now.
It becomes creator and is 17 years now,
After, as for what expected form became able to make by oneself, five or six years passed,
Furthermore, what became able to make square form told to be difficult in Suruga Takesensuji Zaiku passes for ten years and seems to be after.
We became able to finally make free form now,
You said when you intended to always make new thing.
Finally it is Kumagai of Agano Yaki to have had you talk.
Agano Yaki is Officially designated Traditional craft products of Fukuoka.
Agano Yaki builds glaze and makes, and there is much (things of candy glaze and white gradation),
Kumagai prepares thing which gave painting into Agano Yaki.
Because friend of father did Agano Yaki,
Therefore we study,
We opened kiln by oneself after seven years passed.
Originally Kumagai who hates to do thing same as person,
On seeing there being little Agano Yaki which we painted
We seemed to choose the way daringly.
But when Agano Yaki 400 anniversary was held,
When we dig old Agano Yaki,
It is revealed that there is person whom we painted by Agano Yaki,
We knew whether you did not have never met oneself.
In addition, young lady of Kumagai is coming to make Agano Yaki in the same way now, too.
At this artisan corner,
Works of young lady form a line,
As we make work from angle that Kumagai does not think about,
You said that you received good stimulation.
Sano, Kamiya who had you talk this time are exhibited until June 13 by temporary exhibition "traditional industrial art object exhibition of Shizuoka", and demonstration is performed, too.
As Kumagai is exhibited with young lady until June 6 by artisan corner "joya*shukamasaku*ten,"
Come to Aoyama square by all means.