Experience-based facility
Officially designated Traditional craft products news
Category: Experience-based facility
2018/9/6
experience-based facility
History "village of knife" to tell opening of Echizen Uchihamono
 "Village of knife" opened facility which city arranged to convey the history and technique of traditional industrial art object "Echizen Uchihamono" of Echizen-shi.
 We hold how to sharpen classroom of cooking class and knife by craftsman with qualification of Master of Traditional Crafts which we can try out of material, demonstration fair of production around one time a month each. We perform technical guidance for successor upbringing. Admission is free and is closed for Tuesday and the year-end and New Year holidays.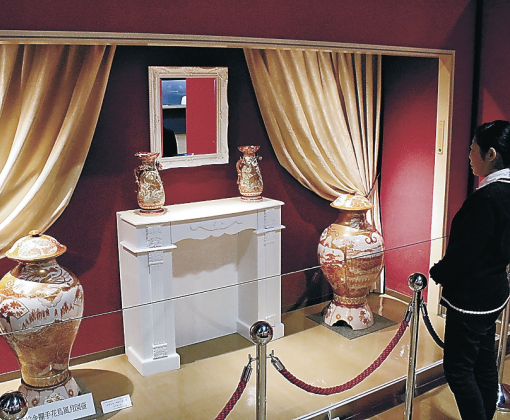 2018/3/19
experience-based facility
Nomi-shi museum of reproduction repair, diorama of Western house found state that gave glory to Kutani Yaki
 In Nomi-shi Kutani Yaki museum reopened on 21st, diorama in imitation of Western house comes out. It becomes easy to image state that gorgeous japankutani exported flourishingly for the Meiji period was given glory to more.
 The center of diorama becomes fireplace "mantelpiece" with decoration frame (1 meter in height, 1.1 meters in width). We displayed bottles on both sides on pot, the fireplace and arranged curtain and mirror.
 Height is approximately 1 meter and large size, and japankutani known as coloring gold-painted porcelain (kinrande) which described person and flowers and birds in closeness reflects European and American interior circumstances. Because children who visited visit were hard to image in response to explanation by words, we established diorama as eyeball of the first large size repair in opening 35 years. We founded tokonoma where Kutani Yaki of dyed pattern shined in.
2017/12/4
experience-based facility
shunfutakumishuku, Traditional Craft experience-based facility of visit 5 million Shizuoka
 Traditional Craft experience facility "shunfutakumishuku" of Shizuoka-shi (city Suruga-ku) achieved 5 million visitors from establishment of the spring of 1999 on 2nd. We broke ornamental scented ball and did and, in performance of "ball child drum" by "mariyukai" of local volunteer, celebrated.
 The 5000000th visitors are office worker Yuki Arima (41) family of city Aoi-ku. Because the second daughter experienced "Suruga Takesensuji Zaiku" at school, it is said that we visited to deepen knowledge more. Vase of "Suruga Takesensuji Zaiku" was given as souvenir by Mayor Nobuhiro Tanabe who was the president of designated manager "shunfugakushi" of facility.