Mino Yaki Kato sound ceramics exhibition
Exhibition schedule, information
...
2017
Wednes
da
y, Nov
ember 22
Mino Yaki Kato sound ceramics exhibition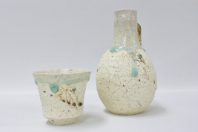 Event during exhibition period
Production experience
※Production experience, please note that it should be limit once per person.
On Saturday, November 18, it is Tuesday, November 21 on Sunday, November 19
・Kato sound made with broach of Sue
Experience charges: The 1,500 yen / time required: Approximately 30 minutes / size: There is no before and after 4cm corner / age limit
※Product which we made with experience delivers thing which burnt to home approximately 60 days later (it costs 200 yen separately)
※But reservation impossibility becomes ..., 14:00 ..., 16:00 ... at 11:00 at start time. Come to Aoyama square before a little than time.