DENSAN Search
TRADITIONAL CRAFTS
Omi Jofu
Omi Ramie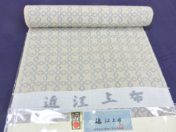 By rich water of Echigawa and achievement of environment and merchant from Omi such as high humidity, hemp cloth developed from the Kamakura era in this district.
In the Edo era, it developed by promotion of Hikone feudal clan which influenced around Hikone-shi of Lake Biwa east bank more, and it was stable local industry. Technique of dyeing greatly progressed from that time, and refined splashed pattern peculiar to Omi Jofu was born.
Fostered by the well-known entrepreneurial spirit of Omi tradesmen, the hot local climate and a plentiful supply of water from the Aichi River, production of woven ramie cloth developed in this area from the Kamakura period (1185-1333).
The craft flourished during the Edo period (1600-1868) with encouragement from the Hikone clan, which ruled the area around Hikone on the southern shores of Lake Biwa, and it became a well established local industry as a result. From that time on, great improvements were made in dyeing techniques giving rise to the superb ikat patterns characteristic of Omi Jofu.

The ikat is either in the weft alone or in both the warp and weft. Weft threads are mainly bound before being dyed using a stencil for the weft ikat cloths. In the case of the warp and weft ikats, both sets of threads are dyed by applying the dyestuff to the bound threads. The positions of the warp and weft threads are then adjusted as the cloth is woven to produce what is one of the craft's top cloths. Ramie is a very comfortable cloth to wear as it is cool and absorbs moisture. These days, cloth is usually made for traditional garments but is also used for coats.
Summary
| | |
| --- | --- |
| Industrial art object name | Omi Jofu |
| Phonetic symbol | omijofu |
| Classification of industrial art object | Woven textiles |
| Main product | Kimono place, obi, womenswear |
| Main production area | Shiga / Higashi-Omi-shi, Aisho-cho, Aichi-gun, Taga-cho, Inukami-gun |
| The designation date | March 30, 1977 |
Contact information
■local production associations
Shiga hemp cloth industry cooperative association
〒529-1331
13-7, Echigawa, Aisho-cho, Aichi-gun, Shiga
Omi Jofu Kyoto Museum of Traditional Industry
TEL: 0749-42-3246
FAX: 0749-42-6488
■We visit production center from foreign countries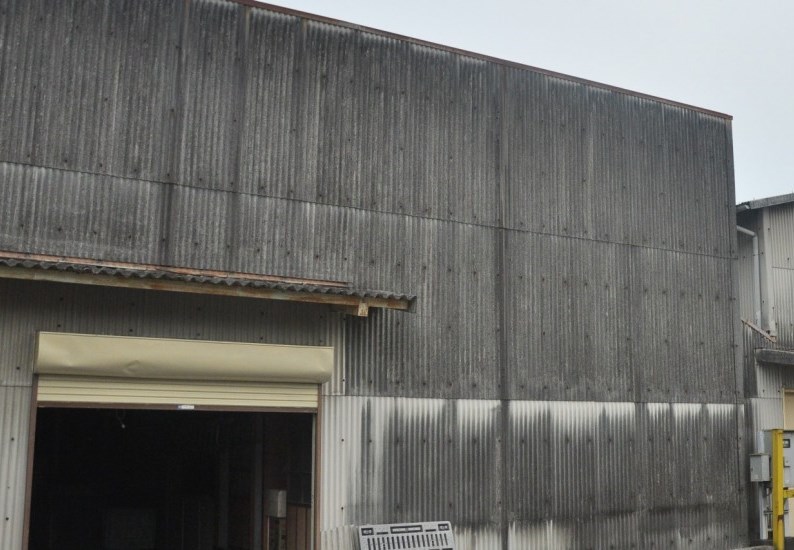 Omi Jofu - production center visit article
■Associated exhibit space, facility
Characteristic
Omi Jofu has "weft cloth with splashed pattern" and "process combination cloth with splashed pattern". Weft cloth with splashed pattern performs "paper pattern textile printing" (katagaminassen) with weft as wing roll mainly. In addition, process combination cloth with splashed pattern does "kushionatsusen" (kushioshinassen) to both threads, and it is top quality goods as we weave cloth with splashed pattern of the warp and weft in spite of being laying upon. As hemp absorbs moisture well, it is comfort that is refreshing coolly when we wear.
Omi-jofu fabrics can be divided into "yokoito-gasuri" and "tateyoko heiyo-gasuri." In yokoito-gasuri, the cross thread is feather-winded and "paper stencil-printed (katagami nassen)." Intateyoko heiyo-gasuri "comb pressing (kushi oshi nassen)" is performed on both yarns and garments are woven while aligning warp and weft which allows to produce premium quality items. Hemp, thanks to its moisture-absorbing properties, feels cool, refreshing and comfortable when worn.
How to make
Pole is narrow and makes cloth with splashed pattern dyeing on bo (pile up) gareta thread by spinning. Main technique has "kushionatsusen" and "paper pattern textile printing". With shrinkage processing peculiar to Oomi called "embossing" as cloth which weaves, and went up, we finish carefully.
Resisted yarn dyeing is performed on yarn that has been spun very thin. The two main dyeing techniques used are "comb pressing (kushi oshi nassen)" and "paper stencilling (katagami nassen)." The woven fabric is then subjected to a unique Omi shrinkage process called "graining" and given a careful finishing.
Voice from production center
When we paste by hand-washing thinly, and linen shrinkage processing product dries in the shade, texture does not change. As for the yellowing, please give me bleaching powder sarashi (leave) shioshite. Please wash dirts such as the cuffs in water using soap. We blow on fog, and wrinkle of hemp cloth recovers just to stretch out.