DENSAN Search
TRADITIONAL CRAFTS
Tokyo Tegaki Yuzen
Tokyo Yuzen Dyeing

It was in the middle of the Edo era, and products from the Kansai area said to be "outbound thing" gathered in Edo where culture and economy prospered together as the center of military administration a lot. There are many personal dyers (we dye and do) of daimyo, and one of passage of such times comes to move to Edo,
Various technique was conveyed. Merchant came to hold initiative of economy, and merchant culture developed, and sense such as the best and rust became common, and freehand drawing yuzen by design illustrator developed.
By the 18th century, Edo was the center of political power of the Shogunate and the culture and economy of this metropolis that later became Tokyo flourished.
A great deal of produce especially from western Japan consequently found its way into the city. Many dyers came with their feudal lords and settled in Edo, bringing with them their own skills and techniques. As town's folk became economically stronger, an urban culture developed. A chic yet restrained sense of taste became the norm and freehand dyeing developed at the hands of specialist artists.

Being a large city, the populous of the metropolis has always been more inclined toward fashions with a refined character. Founded on such maxims of taste, the coloring of Tokyo Tegaki Yuzen is restrained and yet is also characterized by a lightness and delicacy.
Summary
| | |
| --- | --- |
| Industrial art object name | Tokyo Tegaki Yuzen |
| Phonetic symbol | We ask |
| Classification of industrial art object | Dyed Textiles |
| Main product | Kimono place, haori, obi |
| Main production area | Whole Tokyo / special ward others |
| The designation date | March 3, 1980 |
Contact information
■local production associations
Tokyo industrial arts dyeing cooperative association
〒161-0032
3-21-6, Nakaochiai, Shinjuku-ku, Tokyo
TEL: 03-3953-8843
FAX: 03-3953-8898
■We visit production center from foreign countries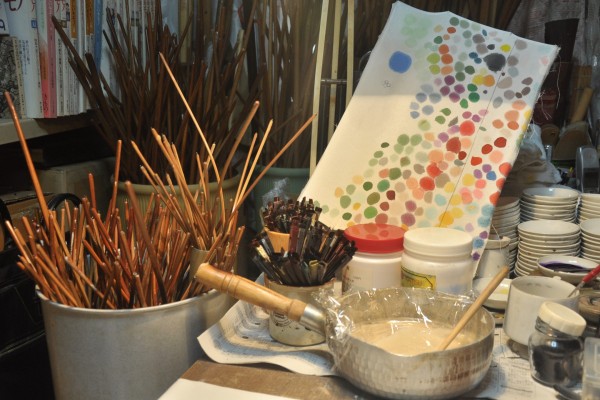 Tokyo Tegaki Yuzen - production center visit article
■Associated exhibit space, facility
Characteristic
In the Edo era, refined fashion has been found as place of big consumption from those days to the present age. Tokyo Tegaki Yuzen characterizes smart design which held the number of the colors in check against a backdrop of such a nature of the locality and is characterized by bright color and design with newness in quiet feeling.
From the Edo period until today, Tokyo, formerly Edo, has always been the center of refined fashion in Japan. Tokyo Tegaki yuzen exemplifies the refined character of Edo through sophisticated designs that use a limited number of colors. Within modest boundaries, Tokyo Tegaki yuzen always conveys something fresh and cheerful in each and every design.
How to make
In Tokyo Tegaki Yuzen, we classify roughly, and there are line yuzen, batik print (roukechizome), three ways of technique of no line drawing (we are not choked, but come). It is all dyeing by resist style technique. Line Yuzen whom line such as white thread rises to in dyeing vividly is mainstream now.
Tokyo Tegaki yuzen consists of three major techniques: Itome yuzen (framed drawing), Rouketsu-zome (dye-resistant wax drawing), and musen-gaki (frameless drawing). Each of the techniques combines the concepts of drawing by hand with methods of fabric dyeing and creating dye resistance. Recently Itome yuzen, which creates the impression of white threads floating upon a sea of vivid colors, is the most popular.
Voice from production center
We lower to good place of ventilation for half-hour without enfolding right after wearing. We remove dirts such as sweat, stain before putting away and clean.