DENSAN Search
TRADITIONAL CRAFTS
Seto Sometsuke Yaki
Seto Underglazed Ware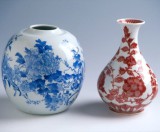 Burning technology and picture technique of porcelain which native took home with him/her from Kyushu to be soft, and to put picture with moisture for of Sinicism that received instruction from specialist in picture belonging to influenced each other and, at the beginning of the 19th century, greatly developed, and skills and techniques of Seto Sometsuke Yaki was established at the mid-19th century.
Efforts of Rev. painting were repeated, and Seto's original dyed pattern technique to represent nature of Seto, and to draw was built up afterwards.
When it is the Meiji era, production of dyed pattern porcelain is enriched more and shows expanse. Large articles such as vase, nest of boxes, garden lantern, table came to be made other than tableware. These products are continued making until today.
At the beginning of the 19th century, local people returned from Kyushu armed with the techniques for firing porcelain and a way of applying decorations using a soft Southern Sung Dynasty style of painting with great charm that they had learned from a specialist painter.
Learning from each other, great developments were made and all the skills and techniques used in making this unglazed ware were finally established by the middle of the same century. Ways peculiar to this ware were gradually developed by depicting motifs derived from the nature of the area by decorative artists whose efforts were finally rewarded.

Then in the Meiji period (1868-1912), production of this decorated porcelain was perfected further and expanded to include the making of large pieces such as jubako or stacking boxes, lamps and tables besides a more regular line of tableware, all of which are still being made today.

The greatest feature of Seto Sometsuke Yaki lies in the way the detailed patterns are applied with a brush directly onto the surface of the unglazed clay. The technique of firing to obtain a tasteful design and the technique used to apply the detailed patterns of birds, flowers, insects and scenery with a brush on the surface of the porcelain using an indigo blue glaze are the special features of the ware from this area. A great deal of tableware is made alongside of articles used in the tea ceremony, items associated with incense, and a number of other interior items.
Summary
| | |
| --- | --- |
| Industrial art object name | Seto Sometsuke Yaki |
| Phonetic symbol | setosometsukeyaki |
| Classification of industrial art object | Ceramics |
| Main product | Dining table article, tea service set, sinter tool, interior decoration article |
| Main production area | Aichi / Seto-shi, Owariasahi-shi |
| The designation date | May 14, 1997 |
Contact information
■local production associations
Seto Sometsuke Yaki industry cooperative association
〒489-0805
1-8, Tougencho, Seto-shi, Aichi
TEL: 0561-82-4151
FAX: 0561-82-4157
■Associated exhibit space, facility
Characteristic
As for the big characteristic of Seto Sometsuke Yaki, the sketch representing design that is small by direct writing brush on the surface of dough which performed bare roast is dated. As for the technique of burning to do to picture with technique and moisture to describe chicken and flower, insect and scenery in the surface of porcelain with color to come out of indigo blue of asbolite paint finely, this production center is unique.
The main characteristic of Seto Sometsuke yaki, is how delicate designs are sketched directly on the bare surface after bisque firing. The indigo-colored porcelain paint is used to paint birds, flowers, insects, and landscapes on the surface of the porcelain in fine detail. This, as well as the firing techniques used that give the pictures a wet quality are unique to this craft.
How to make
We defeat potter's wheel, model and make form with methods such as hand twists. We add design to made basis material and we put china-painting with underglaze color for thing which did bare roast at low temperature and do this roast.
Potter's wheel, casting, and hand forming methods are used to make the works. The bisque-fired works are painted with designs, or works bisque fired at a low temperature are painted with underglaze decoration before the final firing.