DENSAN Search
TRADITIONAL CRAFTS
Hagi Yaki
Hagi Ware

In the origin of Hagi Yaki, we sail up in Terumoto Mori over the Korean Peninsula having gone back with local ceramist Shakuko Ri (rishakkou), brothers of sumomouyamai (rikei) with Hideyoshi Toyotomi 400 years ago.
When Mori moved castle to Hagi, ceramists went together, and Shakuko Ri was allowed to open kiln which baked article with bush clover. This kiln became beginning of Hagi Yaki. After the death of Shakuko Ri, sumomouyamai inherits kiln, and we receive the name of "Koraizaemon Saka", and the name is inherited to date by feudal lord.
Original style of Hagi Yaki was thing of the Rhee Dynasty, but work with original individuality that styles of hand-molded earthenware increased and knew current Hagi Yaki came to be baked afterwards.
Returning from a campaign with Toyotomi Hideyoshi on the Korean peninsular, the feudal lord, Mori Terumoto brought back with him to Japan two Korean potters, Li Sukkwang and Li Kyong. It was these two brothers who were responsible some 400 years ago for doing work, which marked the beginnings of Hagi Yaki.

When Mori Terumoto took up residence in a castle in Hagi, permission was granted to Li Sukkwang to build a kiln to make pieces of pottery especially for the fief. The results were the first real pieces of Hagi Yaki. After Li Sukkwang died, his brother continued the work and the feudal lord of Hagi gave him the Japanese name Hagi Kouraizaemon, a name which continues to be used to this day.

Early pieces of Hagi Yaki owed much to the style of pottery which was being made in Korea at the time. Gradually, however, such things as a raku or rustic character was added and this developed into a highly individual style, which is still in use today.

Perhaps its most distinctive feature is its rustic quality, which is partly the result of little shrinkage during firing. Added to this, the finished ware is highly absorbent. Being so absorbent means that gradually as a piece is used for tea or sake over the years, it becomes stained and changes color. It was this phenomena which was particularly admired by tea aficionados and was termed cha-nare, literally meaning ""tea maturing"", indicating that as a piece is used, it takes on an aesthetically pleasing matured appearance.
Another feature is its simplicity of form and decoration. In fact, Hagi Yaki almost never has any under- or overglazing painted decoration. Instead, its true appeal comes from the way the potter makes full use of what effects he or she knows can be expected during the firing in a noborigama, or ""climbing kiln"". This is especially true of how various combinations of clay will react, the application of glazes, and marks made with modeling tools.

The main items produced these days include various types of ornaments, pieces of tableware, vases, and cups, bowls and pots for tea.
Summary
| | |
| --- | --- |
| Industrial art object name | Hagi Yaki |
| Phonetic symbol | We tear off and bake |
| Classification of industrial art object | Ceramics |
| Main product | Tea set, vase, tableware, decoration article |
| Main production area | Yamaguchi / Hagi-shi, Nagato-shi, Yamaguchi-shi, Abu-cho, Abu-gun |
| The designation date | January 30, 2002 |
Contact information
■local production associations
Association of bush clover ceramist
〒758-8555
Hagi-shi, Yamaguchi 510, Emukai
The person in charge of Hagi-shi business and industry sightseeing department business and industry promotion section Hagi Yaki, ceramic art
TEL: 0838-25-3638
FAX: 0838-26-0716
■We visit production center from foreign countries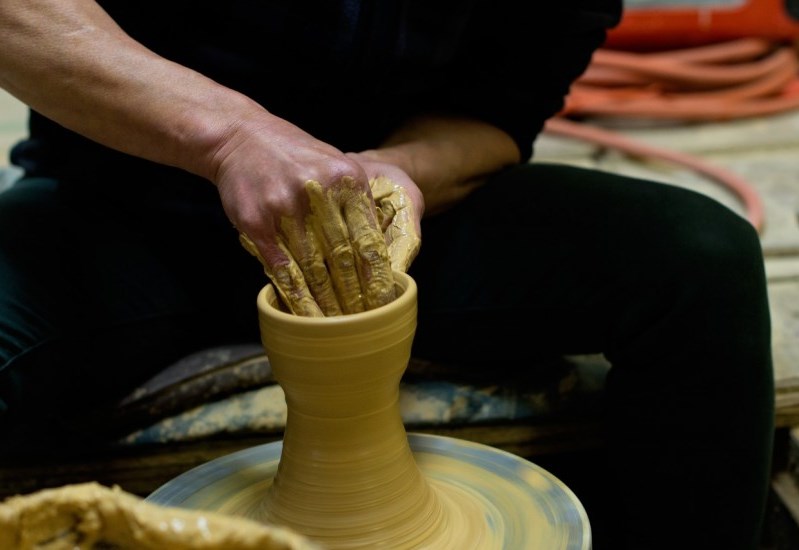 Hagi Yaki - production center visit article
■Associated exhibit space, facility
Characteristic
There is big characteristic of Hagi Yaki in soft soil taste with a little grilled cracking down on and high water absorptivity. Because water absorptivity is high, tea and liquor penetrate while we have been using for many years, and color of bowl changes. This change is called "tea habit" among people enjoying tea ceremony and is enjoyed. Other characteristics include simplicity of form and decoration. In most cases, we are not painted. Condition, spatula eyes are made for combination of soil becoming womb soil, one of glaze by action of ascending kiln after having assumed that we bring about various expressions to keep the charm alive.
The main features of Hagi yaki is its soft sheen with less thermal shrinkage and its high water-absorbing properties. Because of its high water-absorbing properties, if vessels are used over the course of many years, tea and liquor will seep into them causing their color to change. Among tea ceremony connoisseurs this change in color is known as "chanare" and it is very much appreciated. Another characteristic is the simplicity of forms and decorations. In most cases the pieces are not painted. Since the blend of clay used, glazing conditions, spatula marks, etc., will all produce various patterns as a consequence of being baked in ascending kilns, all pieces are designed to make the best use of this peculiarity.
How to make
Called avenue soil, there Mishima soil on the basis of kinhodo and ground soil combine local soil, and make clay to use for making earthenware. Molding includes potter's wheel, hand twist, direct copy, tataranadono technique and puts finish such as engobe, inlay, sculpture for work made by them and does bare roast. After the unglazing, we perform hodokoshiuwagusuri. To glaze, we burn in hodokoshiuwagusurigo, ascending kiln using transparence or white glaze. As for the part which conflicted with flame in kiln, glaze-like changes, and this change is called "malformed china".
Mishima-tsuchi clay and a local clay called Ji-tsuchi clay are added to the main ingredients, Daido-tsuchi clay and Mitake-tsuchi clay, to create a pottery clay for manufacturing the pots. After the clay has been molded into pots by a variety of methods including turning on a potter's wheel, molding by hand, tatara, etc, engobes, inlays and engravings are applied and the pots are bisque-fired. After bisque-firing, glaze is applied. After the pots have been glazed with a transparent or white glaze, they are then baked in an ascending kiln. Once in the kiln, the glaze tone on the parts that come into direct contact with the flame changes; this change is referred to as "yohen."
Voice from production center
Many potteries are in Hagi. You go to visit, and please find Hagi Yaki only for oneself.