DENSAN Search
TRADITIONAL CRAFTS
Tokyo Ginki
Tokyo Silversmithery
It was in the middle of the Edo era, and it was beginning of "Tokyo Ginki" that silverware craftsman called silversmith (we do and do Gane) and decoration craftsman called Master metalworking to make comb, ornamental hairpin, God interest (mikoshi portable shrine) metal fittings appeared as creator of cloth for instrument which profiler engraved.
Backgrounds where Master these metalworkers was brought up in the Edo era include existence of mint of gold coins under the direct control of the government of Edo, Ginza making money, politics economy that each daimyo gathers again, leading thing of culture.
This craft began during the 18th century with the emergence of three kinds of skilled workers of precious metals. First there was the shirogane-shi, who fashioned articles that were then skillfully chased by masters of this technique; and then there were skilled metal workers who made such things as combs, hairpins (kanzashi) and the decorative metal fittings for the portable shrines or mikoshi.
The gold and silver mints in Edo contributed significantly to raising the level of skills of such artisans. Moreover, Edo was the center of politics, finance and culture, and were feudal lords were required to live for long periods. Consequently, silversmithery in particular developed with their patronage. Nowadays, many fine articles are being produced, mostly to traditional patterns.

A confluence of so many skills, Tokyo Ginki is of the highest quality, the epitome of beauty and durable besides. Also, because it is not made of a harmful substance, it can be used for so many kinds of containers, ornaments and other everyday household articles. Both wrought and chased articles are made. There are silver tea caddies, sake flasks, flower vases, ornaments and many other small household articles being made.
Summary
| | |
| --- | --- |
| Industrial art object name | Tokyo Ginki |
| Phonetic symbol | toukyoginki |
| Classification of industrial art object | Metalworking product |
| Main product | Tea set, bottle and cup, vase, ornament, accessories |
| Main production area | Tokyo / special ward (except Minato-ku), Musashino-shi, Machida-shi, Kodaira-shi, Nishitokyo-shi |
| The designation date | January 12, 1979 |
Contact information
■local production associations
Tokyo gold and silver device industry cooperative association
〒110-0015
2-24-4, Higashiueno, Taitou-ku, Tokyo
Tokyo Ginki hall
TEL: 03-3831-3317
FAX: 03-3831-3326
■We visit production center from foreign countries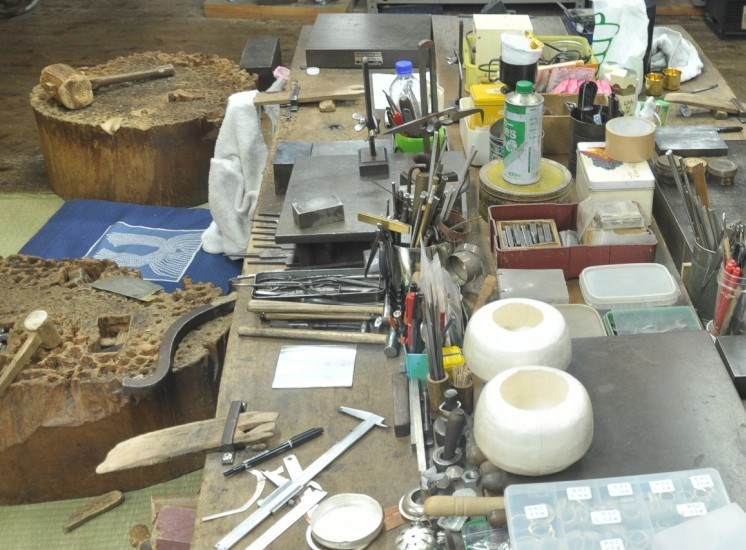 Tokyo Ginki - production center visit article
■Associated exhibit space, facility
Characteristic
Tokyo Ginki which should be called the best of metalcraft lasts a long time with beauty, and, besides, instrument, ornament, accessories are used in various fields of everyday life because they are harmless. Product of "metal engraving" to carve Fumi with mallet (soil) using "forging" (forbids sputum) to propose and graver is made.
Tokyo ginki could be said to capture the true essence of metal working. It produces elegant and long-lasting products, and because silver is completely safe, the products are found in all aspects of daily life: utensils, household ornaments and knick-knacks, and personal accessories. Tokyo ginki includes both hammered silver products and those with engraved patterns and designs.
How to make
We hit silver with mallet and forge and make form of instrument with one piece of silver board and perform surface decoration. Decoration follows Fumi such as circle mallet eyes (marutsuchime), mat eyes, rock eyes using hammer (hammer) for design reckoning. In addition, there is thing giving sculpture using graver.
A pure silver bar is first hammered into the desired shape, and then decorative patterns are applied. Decorative hammered patterns include rounded-hammer patterns, rush-mat patterns and rock-like textures. A chisel is also used to apply carved and engraved decorations to the silver.