DENSAN Search
TRADITIONAL CRAFTS
Hikone Butsudan
Hikone Household Buddhist Altars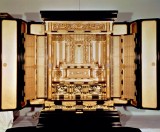 Because it was in the middle of the Edo era and recommended to armorer, painter (master), worker with high technique in Hikone feudal clan to leave production of arms, and to be engaged in production of Household Buddhist Altars , the making of Household Buddhist Altars began as small household industry from that time.
The system as production center of Hikone Butsudan was set by Buddhism having spread out and Hikone feudal clan having protected the making of Household Buddhist Altars , and it was the basics of current development afterwards.
Gradually during the 18th century, highly skilled armorers, lacquerers and other artisans were encouraged by the Hikone clan to work on the making of household altars, at first more or less as a ""cottage industry"". Subsequently with the rise in popularity of Buddhism and the patronage of the Hikone clan, a production center became established, forming the foundations of the small craft industry as it exists today.

While the household altars built in and around Hikone are certainly large, grand and imposing, they still retain a dignified air even when scaled down. Function, too, is not overlooked as a stationary box and stand are incorporated to house essential paraphernalia associated with the use of one of these altars.
Summary
| | |
| --- | --- |
| Industrial art object name | Hikone Butsudan |
| Phonetic symbol | hikonebutsudan |
| Classification of industrial art object | Household Buddhist Altars and Fittings |
| Main product | Household Buddhist Altars |
| Main production area | Shiga / Hikone-shi, Maibara-shi |
| The designation date | May 10, 1975 |
Contact information
■local production associations
Hikone Butsudan business cooperative association
〒522-0063
3-8, Chuocho, Hikone-shi, Shiga
Hikone chamber of commerce 3F
TEL: 0749-24-4022
FAX: 0749-26-0559

■We visit production center from foreign countries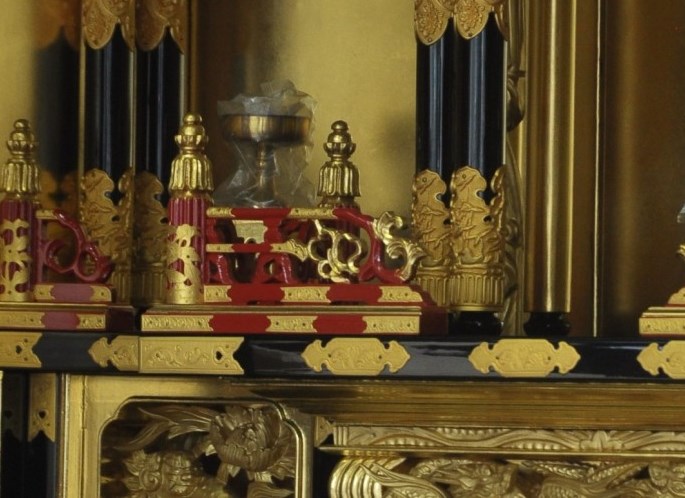 Hikone Butsudan - production center visit article
■Associated exhibit space, facility
Characteristic
Hikone Butsudan is large-scale Household Buddhist Altars with luxurious, solemn atmosphere, but what do not give feeling that is tight at all even if it is small Household Buddhist Altars features. In addition, invention is taken finely to be convenient for everyday use and thinks about necessary tool, storing of accessories, and document box and stand are united.
Hikone butsudan is large Buddhist household altar possessing an exquisite and solemn feel and its characteristic is that even the small-scale one never give the feeling of being boxed in. Furthermore, they are cleverly designed for convenient daily use and integrated with filing cabinets and stands for storing the necessary tools and accessories.
How to make
Hikone Butsudan has seven processes. 1.We produce Class trunk, ceiling, unvarnished wood place of pillar in materials of tree of bare wood - - hinoki or cedar. 2.We produce roof rotation to add to the palace (we eat we do not appear)---Household Buddhist Altars inside. 3.We produce decoration department such as carving---ranma. 4.We paint coating----bare wood in with groundwork machined more natural purified lacquer in dust (saw) and finish with a coat and repeat grind and drying each time and ryoshokuma comes last and finishes in (roiromigaki). 5.We put gold leaf on the foil push----inside. 6.We carve metal and gild metal fittings----brass or copper sheet. 7.We use gold dust, silver dust, Kaigara to add to lacquer work magnificence close to----.
Hikone butsudan is built in seven stages. 1. Creation of rough wooden base --- the body, the ceiling and the white wood pillars are made from cypress or cedar. 2. Shrine --- a roof to be attached to the interior of the altar is built. 3. Carvings--- the decorative parts, like the transom and so on, are made. 4. Painting ---- After the wooden base has been given a base coating with polishing powder, intermediate and top coatings of natural refined lacquer are applied, with polishing and drying being repeated each time; a polishing roiro (black) finishing (roiro-migaki) is given at the end. 5. Gold embossing ---- gold leaf is applied to the interior of the altar. 6. Creation of metal fittings ---- brass and copper plates are engraved and gold-plated. 7. Gold-sprinkled lacquering ---- gold powder, silver powder and shells are used to give the altars a luxurious air.
Voice from production center
Please do not touch gold leaf, gold dust. Change of color causes scree. Prevent you from spilling water. One of lacquering and gold leaf causes scree. Overdoing of heating causes breaking and confusion of Kibe.