DENSAN Search
TRADITIONAL CRAFTS
Banshu Soroban
Banshu Abacus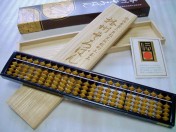 Abacus was handed down to Otsu from the end, Chugoku of the Muromachi era via Nagasaki.
In the Azuchimomoyama era, inhabitants who fled into Otsu learn technique of abacus at the time of the Miki Castle capture of Hideyoshi Toyotomi, and what return to hometown, and began production is said to be opening of Banshu Soroban. It was produced most with 3,600,000 orders in 1960, but the demand decreases by appearance of electronic calculator afterwards.
Coming first from China, the abacus was brought to Otsu from Nagasaki toward the end of the Muromachi period (1392-1573). It was during the following Momoyama period (1573-1600), when Toyotomi Hideyoshi sieged Miki castle, that the people of this small castle town fled to nearby Otsu, where some learned how to make the abacus. When they finally returned to their homeland, they began making what became the Banshu Soroban.
The peak of production here was in 1960, when 3.6 million abacuses were made. Demand has gradually fallen since then due to the appearance of the electronic calculator. The abacus, however, still has value as it provides a much more graphic way of visualizing calculations, and as such still has a place in the curriculum of many schools, where in the past principals of education were ""reading, writing and abacus"". Some also believe that using an abacus can stimulate the brain and prevent senile dementia.

Dense hardwoods such as ebony are used for the frame and boxwood and birch are used for the beads. The smooth operation of these abacuses is one of their special features but, the fineness and delicacy of the work, makes them works of art in wood.
Summary
| | |
| --- | --- |
| Industrial art object name | Banshu Soroban |
| Phonetic symbol | bansyusoroban |
| Classification of industrial art object | Writing tools and Abacus |
| Main product | Abacus |
| Main production area | Hyogo / Ono-shi, Kasai-shi, Miki-shi, Kakogawa-shi, Yashirocho, Kato-gun |
| The designation date | June 2, 1976 |
Contact information
■local production associations
Banshu abacus industrial art object cooperative association
〒675-1372
600, Honmachi, Ono-shi, Hyogo
TEL: 0794-62-2108
FAX: 0794-62-2109

Hyogo tree ball business cooperative association
〒675-1362
563, Kubokicho, Ono-shi, Hyogo
Descent from a mountain Kenji
TEL: 0794-62-4849
FAX: 0794-62-3233
Banshu abacus manufacturing industry association
〒675-1315
84-1, Hiyoshicho, Ono-shi, Hyogo
TEL: 0794-62-3996
FAX: 0794-62-3996
■Associated exhibit space, facility
Characteristic
As for the ball of abacus, ebonies use obstinate, heavy natural tree for frame from tree of hippopotamus box tree. "Scale thin"; equal; fabricated abacus comprises beauty polished up in addition to usability, ball (tama) hajikino good point by delicate traditional technique, and right comprise value as art of tree.
Soroban beads are made of birch or boxwood, while for the frame hard and heavy natural woods like ebony are used. These soroban, assembled by means of precise traditional techniques such as "urokosai" (fish scale technique), in addition to their ease of use and the facility of working the beads, are also valuable art objects with a beautifully polished finishing.
How to make
We begin with the choice of raw wood and sharpen ball after having dried enough and saw up axis nohigohiki, frames and finish to each material. We process it into middle crosspiece, vertical and horizontal frame, back board and we put ball in the axis and cross frame and we repair distortion and fix with filler. Finally we finish for burnishing.
After the wood has been selected and carefully dried, the beads, the axis shaft and the frame are built, each being given a different finishing according to its materials. The middle crosspiece, up, down, left and right of the frame, back plate was processed on the, the beads are inserted onto the shaft, distortions are corrected and fixed in place with wood filler. The process is finally completed by polishing and glazing them.
Voice from production center
Abacus is important tool to feed calculation so that basics of education read and write, and "they are said to be abacus" from old days. In addition, activation of brain is planned by moving finger-tip, and it is said that we help prevention of aging. We do not depend only on electronic calculator for calculation, and how about using abacus increasing mental arithmetic power, memory?