DENSAN Search
TRADITIONAL CRAFTS
Makabe Ishidoro
Makabe Stone Lanterns
Because granite (cancer to surround) of good quality is produced in the Makabe, Ibaraki district, we process stone as life tool for a long time and use.
When it is French mason begun in the Makabechonagaoka area whole area in last years of Muromachi era, we are informed beginning of building stones business of this area. For thing which we could confirm as Makabe Ishidoro, it was said that thing made in 1824 (Bunsei 7) in the temple precincts of Makabemachi was the oldest, and skills and techniques was established by mason who made this.
Good quality granite found in the Makabe area of Ibaraki Prefecture has been used to make a variety of useful articles since ancient times. The actual working of stone in the area began around the end of the Muromachi period (1333-1568) with the making of Buddhist stone articles around Nagaoka in Makabe-cho.
The earliest confirmed Makabe Ishidoro stands in the temple compound in Makabe-cho. It was made by Kubota Kichibei in 1824, and he was responsible for establishing the skills and techniques of the craft.

Special features of these lightly colored lanterns are their superb craftsmanship, the light touch of the beautiful carving and their sense of weightiness. They provide traditional Japanese gardens with an added quality and elegance, their special features being accentuated further by the moss which tends to grow on the stone. Apart from garden items, lanterns and other items are also made for use at shrines and temples.
Summary
| | |
| --- | --- |
| Industrial art object name | Makabe Ishidoro |
| Phonetic symbol | makabeishitourou |
| Classification of industrial art object | Stonework |
| Main product | Garden Mochiishi garden lantern, Shinto shrine Buddhist temple dedication Mochiishi garden lantern |
| Main production area | Ibaraki / Makabemachi, Makabe-gun, Yamato-son |
| The designation date | April 5, 1995 |
Contact information
■local production associations
Makabe building stones cooperative association
〒300-4408
402, Makabechomakabe, Sakuragawa-shi, Ibaraki
TEL: 0296-55-2535
FAX: 0296-54-1855

■We visit production center from foreign countries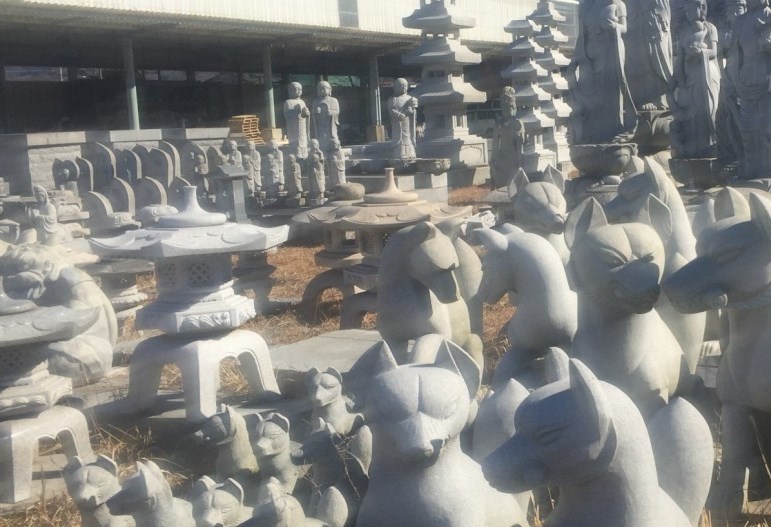 Makabe Ishidoro - production center visit article
■Associated exhibit space, facility
Characteristic
Makabe Ishidoro with color of hard brightness features delicate elegant sculpture with the softness and there is a feeling of weight. The characteristic is made use of remarkably by there being moss and gives Japanese gardens flavor when it is more beauty.
With their light color, and superb sculpting which carries an air of softness, MakabeIshi-Doro laterns are characterized by their beautiful grace and gravity. Once moss begins to grow on the laterns, their character is further enhanced, and they lend a sense of elegance and charm to a Japanese garden.
How to make
The making of model of stone uses traditional tools such as "chisel" "koyasuke" "bushhammer" by main process. After it being said with "sumi soup stock", and having done sumi soup stock using difference music (it shines Gane), we finish that we describe flight to become border changing carving in uncut stone in traditional skills and techniques called "bushhammer finish" "to finish drinking, and to finish" "duster finish" using traditional tool. We join and do laying upon with tenon piece except top and bottom of part which garden lantern called burning place of a fireplace (hibukuro) lights and keep balance of garden lantern.
For carving the stones used for the laterns, traditional tools such as nomi hand chisels, koyasuke chiseling hammers and bishan bush hammers are used. First the design of the carving is drawn onto the stone in a step called "sumi-dashi" using a sashigane carpenters square. Next, traditional tools are used in the traditional steps of "nomikiri-shiage" chiseling, "bishan-shiage" bush hammering, and "tataki-shiage" hammering. Aside from the areas immediately above and below the hibukuro lantern area, mortise and tenon joints are chiseled into the various stone parts, and the lantern is assembled with great care to ensure its balance.
Voice from production center
Japanese garden must have stone garden lantern. As the characteristic is made use of in Makabe Ishidoro remarkably by there being moss, you supply enough moisture, and please provide oldness early. It becomes considerable period piece in 2 years and can taste beauty as thing coloring garden. In addition, as for the garden lantern, all mascot of them is said.