DENSAN Search
TRADITIONAL CRAFTS
Miyagi Dento Kokeshi
Miyagi Kokeshi Dolls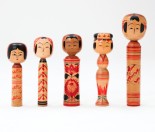 After the middle of Edo era, it is informed that we were born as hot spring souvenir of the Tohoku district.
In Miyagi, there are five traditional kokeshi dolls of "clapper (come) kokeshi doll" "Sakunami (at the same level as fence) kokeshi doll" "Togatta (toogatsuta) kokeshi doll" "yachiro (let's jeer) kokeshi doll" "Hijiori (elbow cage) kokeshi doll".
It is said that these dolls were made to sell to people visiting the hot springs in the north east of the country from the middle of the Edo period (1600-1868). Five kinds of traditional dolls are produced in Miyagi Prefecture itself, namely naruko kokeshi, sakunami kokeshi, toogatta kokeshi, yajiro kokeshi, and hijiori kokeshi.

These highly appealing dolls with their extremely simplified form comprising only a head and body, have a charm and beauty all their own, given to them by creators, who are both honest and innocent, working surrounded by the natural beauty of the mountain villages in this area of Japan.
Summary
| | |
| --- | --- |
| Industrial art object name | Miyagi Dento Kokeshi |
| Phonetic symbol | Father kokeshi doll which does not leave Miyagi |
| Classification of industrial art object | Dolls and Kokeshi |
| Main product | Kokeshi doll |
| Main production area | Miyagi / Sendai-shi, Shiroishi-shi, Osaki-shi, Zao-machi, Katsuta-gun and Shichikasyuku-machi, Kawasaki-machi, Shibata-gun, Matsushima-machi, Miyagi-gun |
| The designation date | June 22, 1981 |
Contact information
■local production associations
Japanese kokeshi doll building
yachiro kokeshi doll business cooperative association
〒989-0733
kyujokenhakuishishifukuokahachikyujiyachirokita 72-1
yachiro kokeshi doll in the village
TEL: 0224-26-3993
FAX: 0224-26-3993
Sendai district tradition kokeshi doll artisan association
〒989-3212
Imozawa, Aoba-ku, Sendai-shi, Miyagi character Otake Nitta lower 30
Masahiro Sato
TEL: 022-394-3005
FAX: 022-394-3098
Togatta tradition kokeshi doll artisan association
〒989-0916
Chinatown Area, Toogattaonsen, Zao-machi, Katsuta-gun, Miyagi west mountain behind 36-135
The Miyagi Zao kokeshi doll building
TEL: 0224-34-2385
FAX: 0224-34-2300
■We visit production center from foreign countries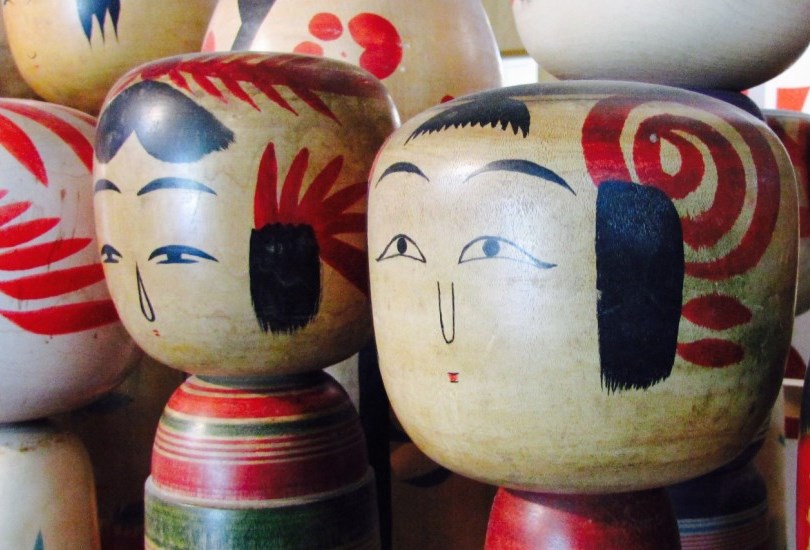 Miyagi Dento Kokeshi - production center visit article
■Associated exhibit space, facility
Characteristic
In addition to the beauty of molding that is full of, and was simplified only as for the head and the body, figure which is pretty with neatness is beauty born heartily of simple creator among nature of mountain village.
Miyagi dento kokeshi dolls, comprised of only a head and body, combining the beauty of the extremely simplified shape, and their innocent, sweet expression, clearly show the pristine heart of the artisans who produce them in mountain villages surrounded by the vastness of nature.
How to make
After having let you peel tree becoming materials of kokeshi doll and naturally dry for from six months to one year, we cut tree to dimensions in total and cut unnecessary part. We turn potter's wheel and sharpen head, trunk with plane (plane) and describe pattern of face and trunk in thing which we polished in sandpaper yatokusa and we swat head and put into trunk.
First the bark is peeled from the wood which will serve as the material of the dolls, and then the wood is dried for 6 to 12 months. After it is dried, the wood is then cut according to the design, removing unnecessary parts. The wood is then turned on a spinning lathe to carve the body and head, after which the pieces are smoothed with sand paper or scouring rushes. The design of the head and body are then painted onto the corresponding pieces, and finally the head is attached to the body by tapping it on with a hammer.
Voice from production center
It discolors and becomes ugly when we touch by wet hands. In addition, please avoid place getting wind of air-conditioning directly. Because dyeing is vulnerable to ultraviolet ray, please avoid direct rays of the sun. In addition, please do not put near fire.