DENSAN Search
TRADITIONAL CRAFTS
Edo Sekku Ningyo
Edo Sekku Ningyo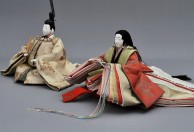 Doll production of Edo began under the influence of Kyoto early in the Edo era, but it is thought about with age of an emperor approximately 250 years ago Edo original style having been established. Hina doll and doll for the Boy's Festival were realistic, and, from this time, they became refined Edo-style figure. Doll culture of Edo met the golden age for the culture civil administration period that was in the latter half of the Edo era, and former decoration which we decorated outdoors early in the Edo era was decorated indoors, and Edo armor of precise decoration which made doll for the Boy's Festival and real armor model was made.
In addition, manners and customs doll, Ichimatsu dolls made exactly like doll and popular actor made precisely small came to overflow in town.
Edo doll production began in the early Edo period (1600s) due to influence from Kyoto, but the unique Edo style is said to have begun 250 years ago in the Horeki era.
In this period, the Girl's Day dolls and Boy's Day dolls began to be made in the sophisticated and realistic Edo style. In the late Edo period, during the Bunka-Bunsei Period (1804-1830), doll culture reached its peak, and the helmet decorations used outdoors during the early Edo period were moved indoors, and Boy's Festival dolls and elaborate decorations modeled after real armor called Edo Kacchu were made.
Small, elaborate dolls called fuzoku ningyo that were made to look exactly like popular actors were also made, as well as ichimatsu ningyo were wildly popular.
Summary
| | |
| --- | --- |
| Industrial art object name | Edo Sekku Ningyo |
| Phonetic symbol | edosekkuningyo |
| Classification of industrial art object | Dolls and Kokeshi |
| Main product | Hina doll, doll for the Boy's Festival, decoration armor, manners and customs doll, Ichimatsu doll, gift doll of court nobles |
| Main production area | Tokyo / Adachi-ku, Arakawa-ku and others, Saitama / Saitama-shi others |
| The designation date | March 9, 2007 |
Contact information
■local production associations
Tokyo hina doll industry cooperative association
〒111-0052
2-1-9, Yanagibashi, Taitou-ku, Tokyo
The fourth floor of the Tokyo wholesaler center
TEL: 03-3861-3950
FAX: 03-3851-8248

■Associated exhibit space, facility
Characteristic
We inherit tradition of the Edo era, and hue is natural, too and it is realistic and is refined high-quality product.
In keeping with the Edo traditions, the colors are natural, and the high quality dolls are very realistic and sophisticated.
How to make
Main material such as hina dolls is made from tree, paper, natural material including cloth, and grapple and we help put on apparel which we prepared according to from the top and touch and, on head and the body which we molded in wood carving or kiri*, produce hands and feet. In addition, as for Edo armor, as for the material which a lot of things produced based on historical verisimilitude research are used for, main processes are produced with nature material and iron, copper of tree and paper, silk thread and leather by manual labor.
The main materials used in making Girl's Day dolls are wood, paper, cloth, and other natural materials. The head and torso are made of carved wood or toso, to which the arms and legs are attached, and then the dolls are dressed with clothing that was completed separately.
Edo Kacchu is made mainly with reference to actual period pieces, and the materials used include natural materials like wood, paper, silk thread, and leather, as well as iron, copper, and more. All of the major production steps are completed by hand.