DENSAN Search
TRADITIONAL CRAFTS
Hakata Ningyo
Hakata Art Dolls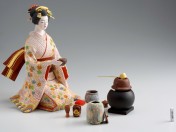 The history of Hakata Ningyo is old and sails up at the beginning of the 17th century.
When Nagamasa Kuroda built Fukuoka-jo Castle, it is said to be opening that craftsman who learned technique of handicraft heating manufacturing of ridge-end tile gave to feudal lord superior work. In addition, folk customs unglazed toy doll that resident of Gioncho, Hakata created in the early 19th century is said to have laid groundwork for Hakata Ningyo.
According to some people, the history of Hakata Ningyo dates back to the beginning of the 17th century. It seems that when Kuroda Nagamasa built Fukuoka castle, someone making ridge-end tiles for the castle developed his skills with forming and firing, and he gave one of the figures he made to the head of the clan.
It is also said that Hakata Ningyo originate from simple biscuit fired toy dolls that were made by the people living in the Gion-machi district of Hakata sometime during the first half of the 19th century.

A great variety of figures are made including representations of beautiful women, kabuki players, characters from Noh dramas, characters of town and country, famous Taoist or Buddhist figures, and children. All are characterized by an unassuming beauty springing from biscuit firing, subtle coloring and finely carved details.
Summary
| | |
| --- | --- |
| Industrial art object name | Hakata Ningyo |
| Phonetic symbol | This is person doll |
| Classification of industrial art object | Dolls and Kokeshi |
| Main product | Kabuki thing of man of beautiful woman |
| Main production area | Fukuoka / Fukuoka-shi, Ogori-shi, Chikushino-shi, Kasuga-shi, Onojo-shi, Dazaifu-shi, Maebaru-shi others |
| The designation date | February 26, 1976 |
Contact information
■local production associations
Hakata Ningyo commerce and industry cooperative association
〒812-0023
10-3, Narayamachi, Hakata-ku, Fukuoka-shi, Fukuoka
West Japan Naraya Building 602
TEL: 092-291-4114
FAX: 092-291-8007
■Picture



Maneuver TEWAZA "Hakata Ningyo"
■Associated exhibit space, facility
Characteristic
We can classify Hakata Ningyo roughly into person image of Taoism and Buddhism of manners and customs of ability of Kabuki of beautiful woman, child thing. It is beauty of calm sense that characteristic, characteristic of Hakata Ningyo is unglazed and colors and careful cutting groove.
Hakata Ningyo can be roughly categorized by personality of the doll :Bijin (beautiful lady), Kabuki, Noh, Customs, Characters in Taoism or Buddhism and Wappamono (children). Their characteristics derive from the calm colorings which are made through simple biscuit firing and fine engraving.
How to make
We knead clay produced in hometown and we carve in relief based on design and make model and do moulage with gypsum (sekkou). We stick clay which we worked out in the model on imposition type and bake. Make the groundwork after kiln nominated before coloring, and perform "part of a picture painted with a slender-painting brush", is menso* kioshimasu last. It takes about from 20 days to 60 days before completion.
Local clay is kneaded and engraved to create the prototype, then the mold is shaped by plaster. The body is shaped by the mold, and then baked. After the body is taken out from a kiln, the foundation is made to paint the hair and the face. The process usually takes 20 to 60 days to complete.
Voice from production center
It does the name called Hakata Ningyo by opening to have removed two characters of "unglazing" from reward-formed "Hakata unglazing doll" conferred at open inside the country encouragement of industry exhibition in Osaka in 1890 and the name to say. Hakata Ningyo has expression of heart. It is said that we can talk with Hakata Ningyo.