We handle brush of one end (kataba) skillfully
We bring about beautiful shading off
We handle brush of one end (kataba) skillfully
We bring about beautiful shading off
Nagoya Yuzen Yamada lapis lazuli child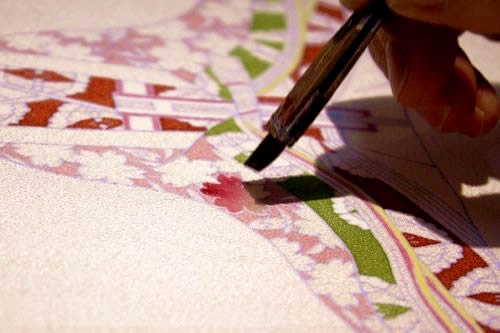 Tuesday, January 20, 2015
It is during production demonstration in Aoyama square
We heard story from Yamada directly.
(Q) At first about this work; come, and please tell about beriberi and technical acquirement.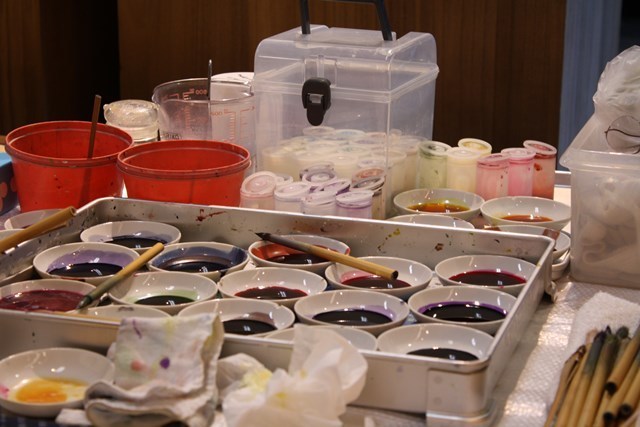 We went to high school of design department, but there was telling earthenware, photograph, sculpture, drafting widely and does grilled dish by kiln and runs over drawing and develops photograph and,
We learned various things.
One of the subjects had "dyeing" of yuzen.
We learned in various ways for three years and thought about examination of university of arts,
We would learn with teacher of Nagoya Yuzen for one and a half years and acquired process of person street.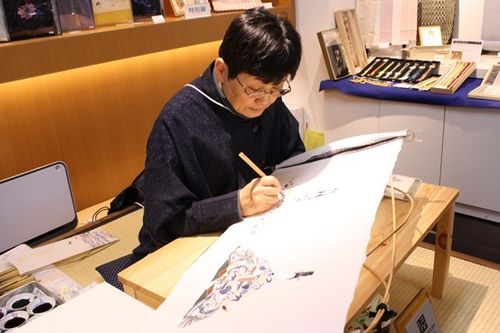 Is relationship, and will take to teacher of studio of Kyoto, and which process turns to woman most afterwards; when was told, agreed whether both oneself and teacher did "shokuso, and process called" turned.

Then we did "shokuso slowly and carefully and, for approximately three years, acquired technique of" in main.
    

As for bass of style of present Yamada having been formed these days. We seemed to be often appointed in colorings, but, as for the color designation of "dyeing", as for this red, this, it was usually said condition this green that we might acquire power to finally express freely here because we chose color that oneself liked, and teacher at the time was able to provide overall atmosphere of work at type that appointed atmosphere of the general finish.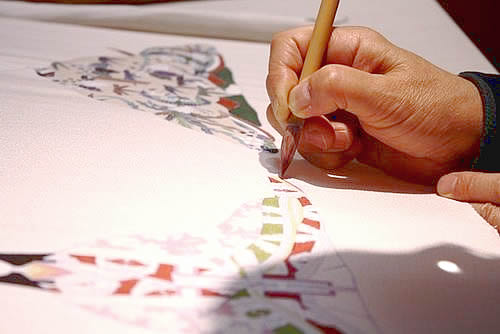 In addition, we do masking, shokuso, and one article of homemade method of construction working consistently is with the mainstream, but, as for this yuzen which is called line masking yuzen (itomenoriokiyuuzen), in the case of Yamada, alone author seems to be shared with couple other than "dyeing" of colour of the ground of big game including obi and kimono until finish in freehand drawing by design, sketch.
Somewhat heartwarming.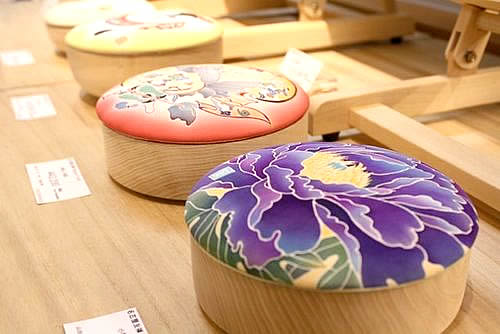 (Q) Exhibition period was expired, we participated in this Loan Object Exhibition this time, and how about tomorrow?
As for Aoyama square, floor is larger than store of former Ikebukuro,
We think that it was good that display is easy to watch, and it is laid out.

In addition, having been able to touch nation-wide tradition industrial art object which we usually picked up and could not look at directly,
It was had an experience that it had good that we were able to have various places and interchange of much woman Master of Traditional Crafts.
As work of everybody was wonderful, we have purchased a lot (laugh)