Technique for 600 years comes in me gratefully.
Technique for 600 years comes in me gratefully.
Sakai Uchihamono Miwa Ikeda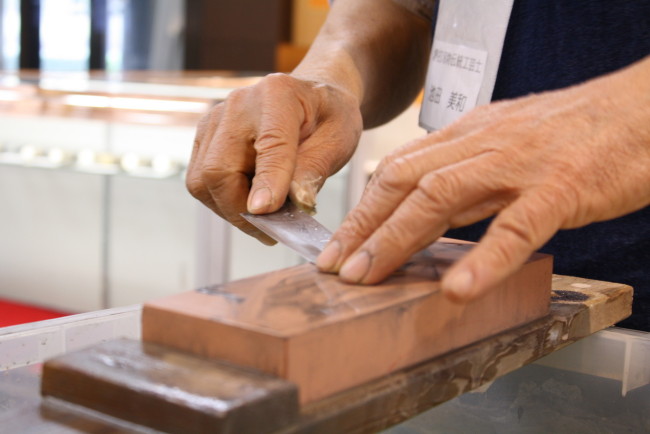 But ... which makes thing commonly plainly
-Brief career history -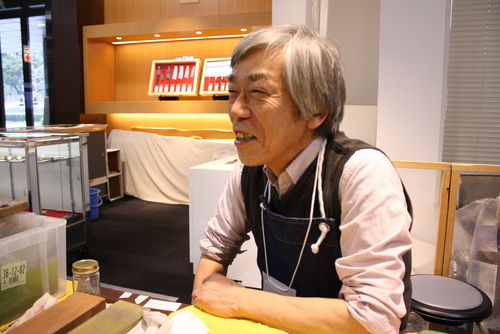 1967:
We begin the making of kitchen knife under the instruction of father who was **shokujin
1983:
We become independent as Ikeda training place
Thereafter we engage in kitchen knife production as technical successor of Sakai Uchihamono,
"Mizumoto ware" It produces Wabocho mainly on professional business including this and "way of drawing a picture on the water".
1988:
We receive authorization of Master of Traditional Crafts and are played an active part as Sakai Uchihamono Master of Traditional Crafts society's chairperson now.
(Q) Ikeda was born in house of classic **shokujin which spread out from the Meiji era, and Tatsuo of older brother was famous Sakai Uchihamono Master of Traditional Crafts, would you be thinking to advance to this way without what question since childhood?
(A) No, it is not unexpectedly so.
In fact, we thought that it was not correct, and office worker finally chose **shokujin as oneself after graduating from technical high school, and finding a job immediately, and having worked for approximately two years when there was experience that worked for general company (laugh). House was four brothers only of man, but gets tech job after having graduated from all technical high school after all.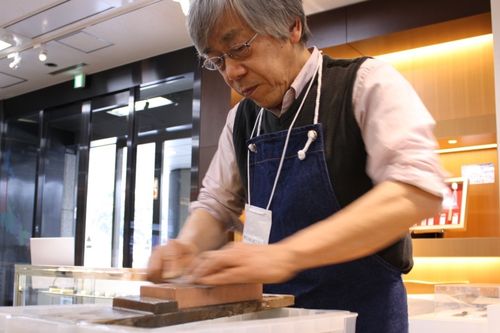 (Q) It is everybody and to swell, and to be brothers of job type "in" hand. By the way, much-talked-about slightly playful "fish series" was popular in Aoyama square, speaking of kitchen knife of Miwa Ikeda, how was this line born? Slightly different with image of professional government contractor "grilled with Mizumoto" and sharp knife of "way of drawing a picture on the water" and is nandakahokkorishiteshimaunodesuga.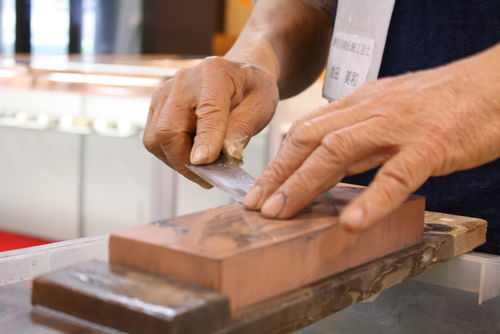 (A) Well, (laugh)
As for that series, thing that we produced and experienced of kitchen knife was created through opportunity several years before ten.
We prepared large material which became base in production experience of kitchen knife and did that we molded the material as form that visitor liked and made kitchen knife.
For idea of so many men, so many minds, kitchen knife of various forms was completed and thought then that it was interesting.
It was opportunity and "we hit guilt and have begun to make sunfish" and mudspringer, leatherfish, various fish series including globefish.
If we are pretty, and there is rye nap which it is easy to take in hand even if sharp kitchen knife is scary, we think that we may have Sakai Uchihamono feel closer toward the general user who is not professional and continue producing.
(Q) It was so. We could not somewhat imagine "fish series" from taciturn Ikeda all the time and were going to never hear sometime. By the way, it is asked last question, but chonen**shokujin is continued, and please tell if there are "policy" or "mental attitude" for work.
(A) I do not have particularly excellent mental attitude.
It is not such a thing that we put soul or pursue artistry,
-But - to make thing commonly plainly

We think that it is simply this.
As for my customer, most of are professional cooks.
It means that craftsman makes tool of craftsman.
Therefore the evaluation is very severe, and the craftsman will not use my tool afterwards if we are sharp and are not usable before hit.
As utility is evaluated than artistry honestly, we are until we devote ourselves to what we only make plainly.
Self-styled shyness and Ikeda who talks.
When craftsman did not perform business if good, we floated self-conscious smile bashfully.

From ... Ikeda training place HP ... 
http://sakai-hokushin.jp/sakaiuchihamono.html
What I make so-called "wrought iron utensil."
Generally, it is called Sakai Uchihamono.

By traditional fire polishing, forge welding assumes blade iron and metal,
We quench thing which we beat with mallet and open and molded and do to knife.

It is reason the sharpness that Itaba uses kitchen knife of Sakai,
Sharpness and it are particular about prolonged long sharpness, and I make kitchen knife, too.

It is not possible for me to talk about the history for 600 years,
Technique for 600 years comes in me gratefully.