Heart to conflict when you check whether you follow tradition in the present age
Heart to conflict when you check whether you follow tradition in the present age
Murakami Kibori Tsuishu Shinnya Suzuki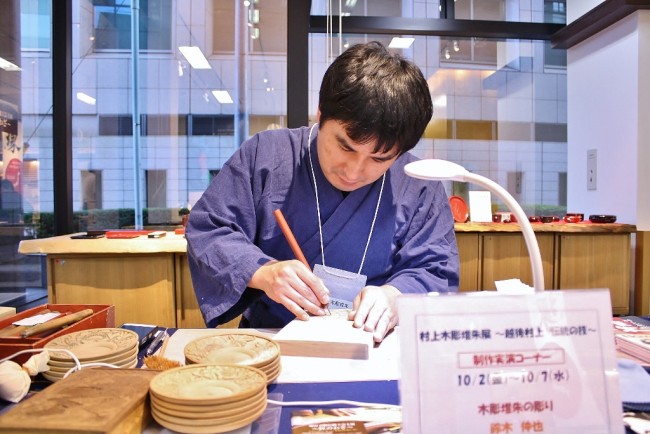 We visited Shinya Suzuki during production demonstration in Aoyama square on October 6, 2015.
takumi of Murakami Kibori Tsuishu: Shinya Suzuki
Officially designated Traditional craft products that Murakami Kibori Tsuishu is continued making in Murakami-shi, Niigata. It does woodcraft with chisel, and it features we put lacquer on several levels from the top, and to paint. "Thickly-coated red lacquer ware with patterns carved in relief" does cinnabar red, but it is cinnabar red and is different, and it becomes color of the whole families by house making. In addition, there is technique such as "elaborately-coated black lacquering with patterns in relief" "shuryuto" "kimmato" "color lacquering" "ceramic ware carving" other than "thickly-coated red lacquer ware with patterns carved in relief", too and supports the ground of Murakami.
As Master of Traditional Crafts
Qualification of "Master of Traditional Crafts" which we acquired this year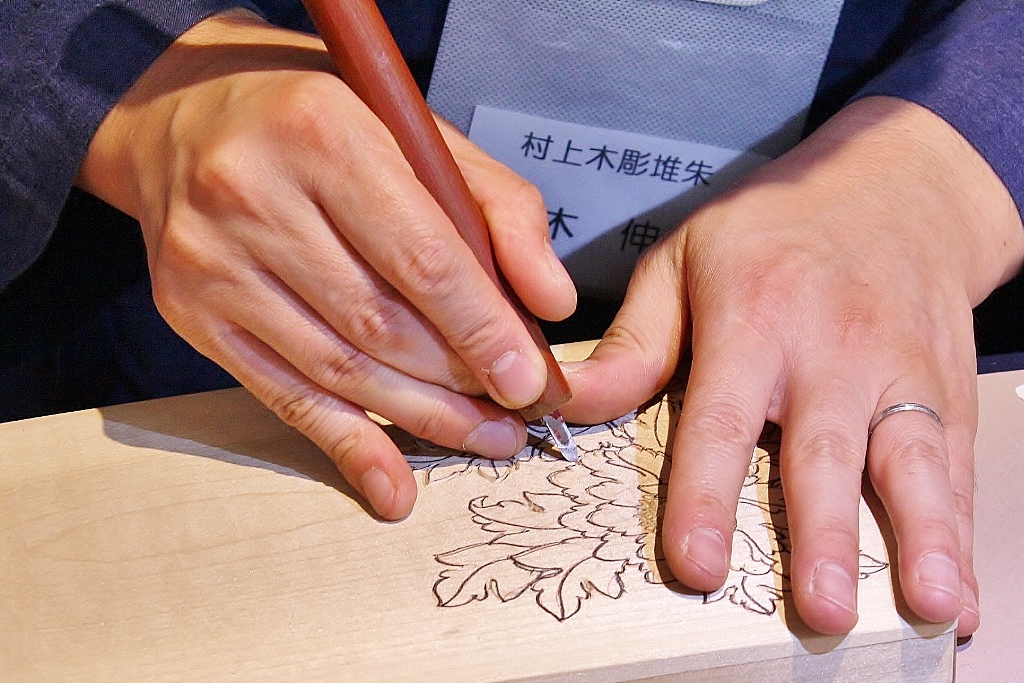 After Suzuki began Murakami Kibori Tsuishu; the thirteenth year.
As qualification of Master of Traditional Crafts became necessary condition that it received examination to engage in work of Officially designated Traditional craft products more than 12 years, we could finally receive examination last year and passed wonderfully.

As father has already acquired qualification in "Suzuki Laquer Ware shop" which Suzuki commits, it is the second in shop.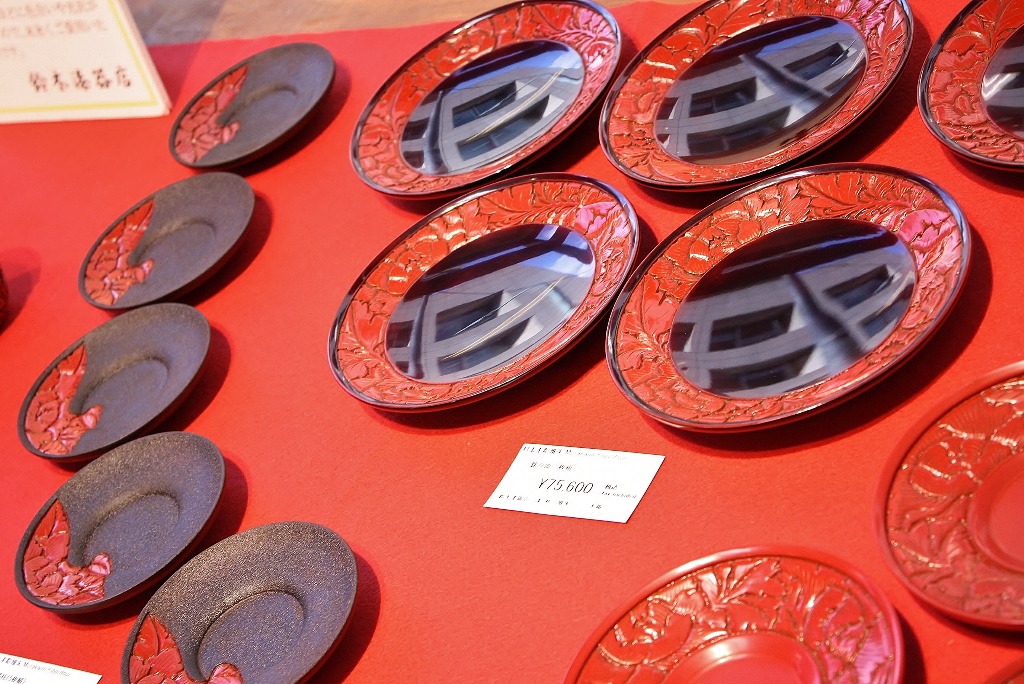 Suzuki worked as bank clerk of Niigata until 29 years old, but makes up our mind to come back to house because the eldest son who inherited the parents' house died. And we seemed to jump into this world.

The beginning went to training school of carving in the day and went to training school of coating at night and lived a life that we handled work of shop at other time.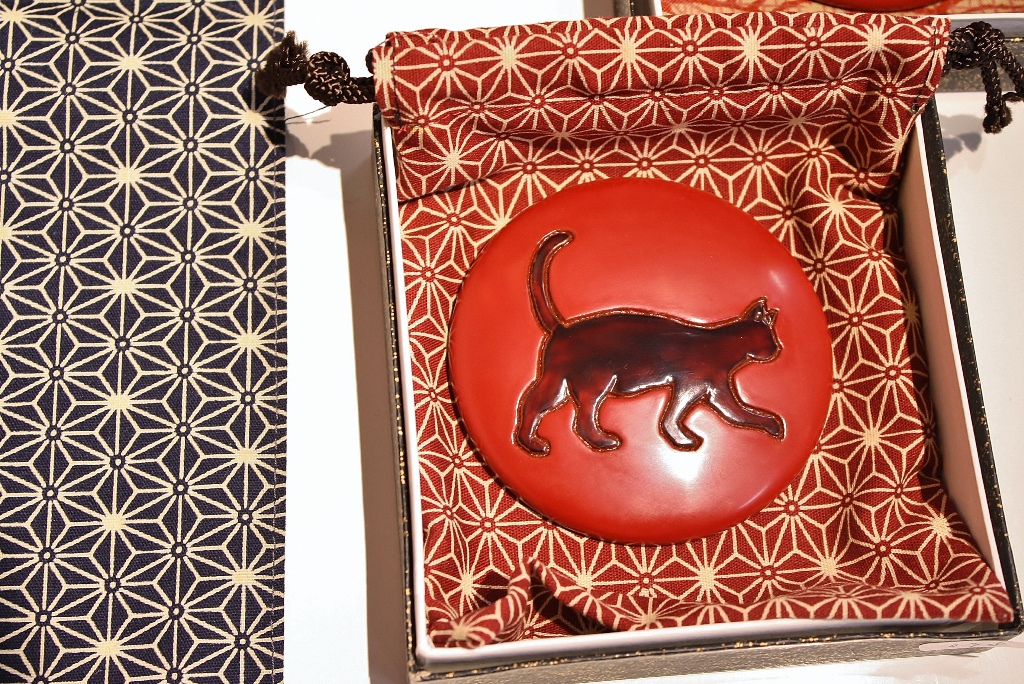 As it might be said that nothing was said from parent in the days of Suzuki, child and did not think that we inherited house, we have not made that we learned Murakami Kibori Tsuishu either.

With 30 years old close at hand, it is start from zero. There was tool in house from old days, but what all does not know is dull.
Still we graduate from training school somehow and we see figure which father makes afterwards and learn and seem to reach in now.
Murakami Kibori Tsuishu ... dakarakosono charm that we cannot mass-produce
Officially designated Traditional craft products which the mechanization advances to for the bubble era
It was hand zukuridakarakosono Officially designated Traditional craft products, but there was movement that it was said to introduce the mechanization for mass production in a part of the industrial art object industry for the bubble era that thing sold well.

We tried to mechanize Murakami Kibori Tsuishu on the times, but unfortunately fail. This Officially designated Traditional craft products understood what it could not mechanize and gave up mass production and seemed to decide that we went with one handicraft.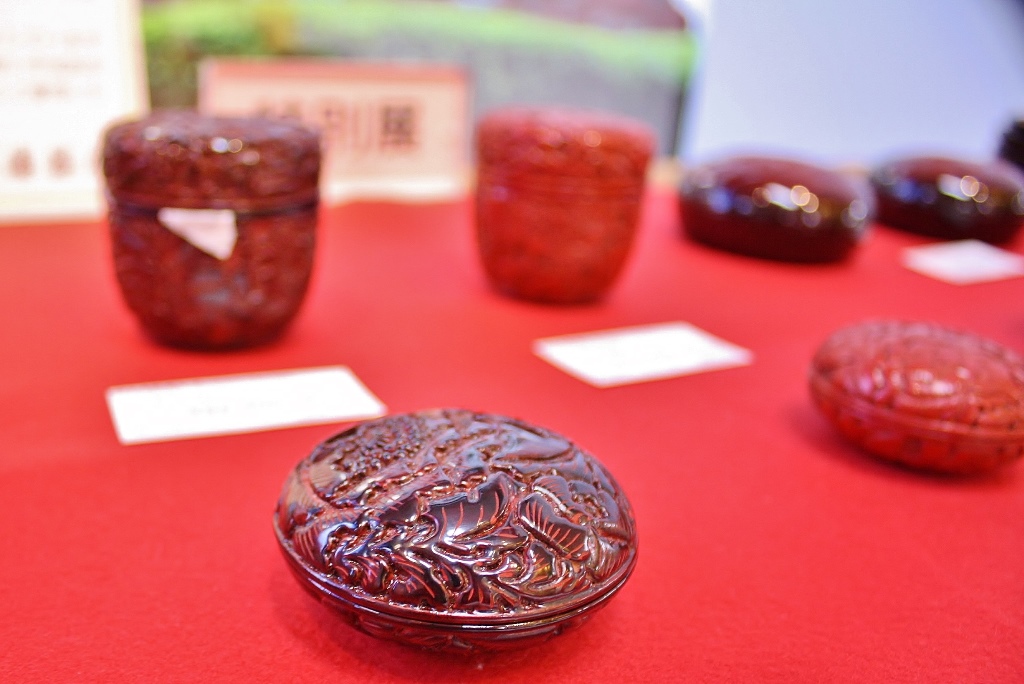 But flow to be good simply because it was Murakami Kibori Tsuishu which we continued making with one handicraft came out when the times passed, and it was the present.

It came to be unusually recognized by the world as Officially designated Traditional craft products that, besides, it was rare that mass production carved a piece of a piece of koredemokatoiuguraini tree with chisel in the ordinary times.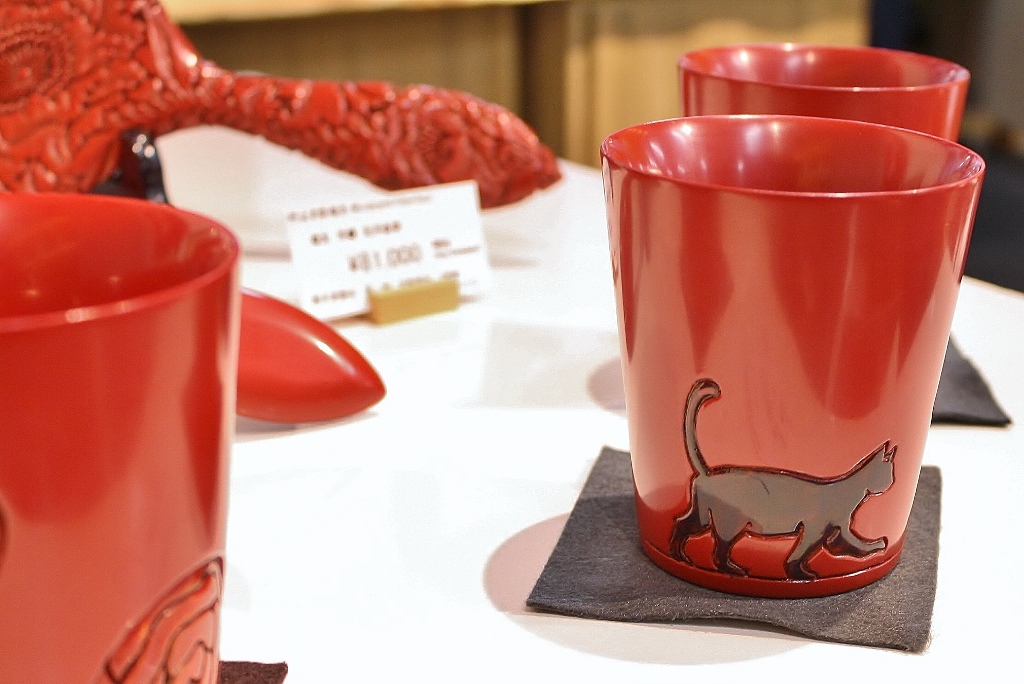 We seem to carve with chisel every single day after we put draft for bare wood while Suzuki is proud of it as engraver of Murakami Kibori Tsuishu.
It is ... with thought to want many people to know
Suzuki is ... with thing which we want to make after this
Sculpture which we actually carved with production demonstration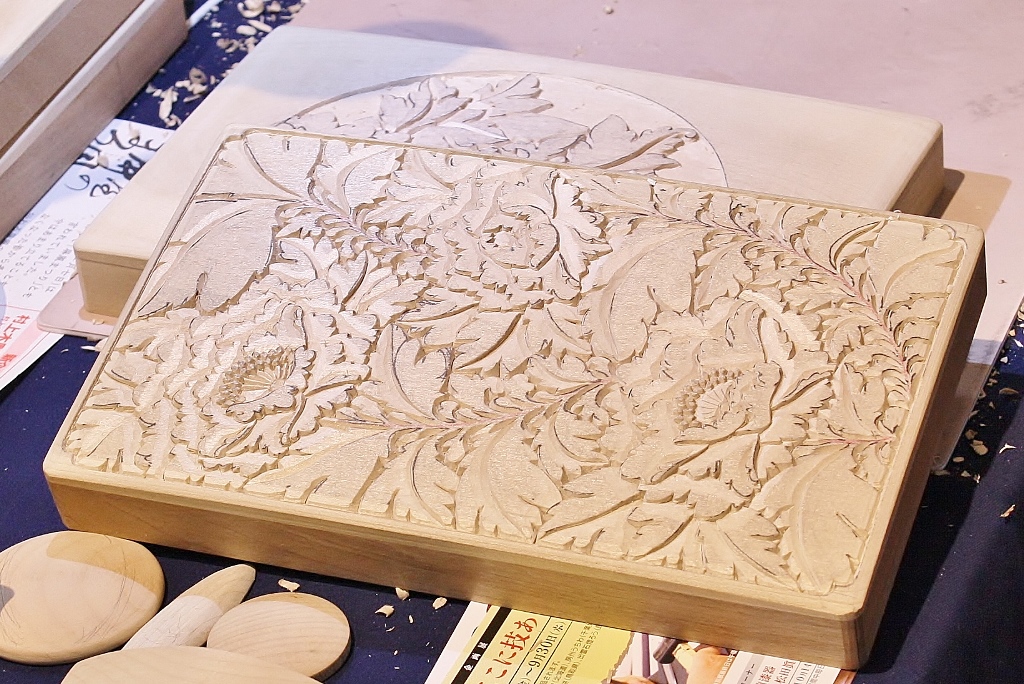 Finally after hearing what kind of Murakami Kibori Tsuishu you wanted to prepare into Suzuki after this, it was said when we hesitated.

Indeed, there is feeling that we succeed tradition from old days from thought that we want to leave in history because traditional value is high, and work of Murakami Kibori Tsuishu wants to make, but on the other hand,
There seems to be feeling to want to make work which there were young people in glass and the present life when interest is easy to be attracted.

If after all even Officially designated Traditional craft products does not sell, life is not possible, too and cannot make Murakami Kibori Tsuishu. You said that you wanted to increase successors of side to use with such a meaning.

We do molding University and collaboration in Niigata and seem to do spread activity now to have at first you know from there as there are young people who do not know how to use Murakami Kibori Tsuishu in Niigata either.


Cinnabar red molding, Murakami Kibori Tsuishu which are fun even if we use every day.
How about picking up once?

It is several points for permanent exhibition of Aoyama square, but can pick up as we are put.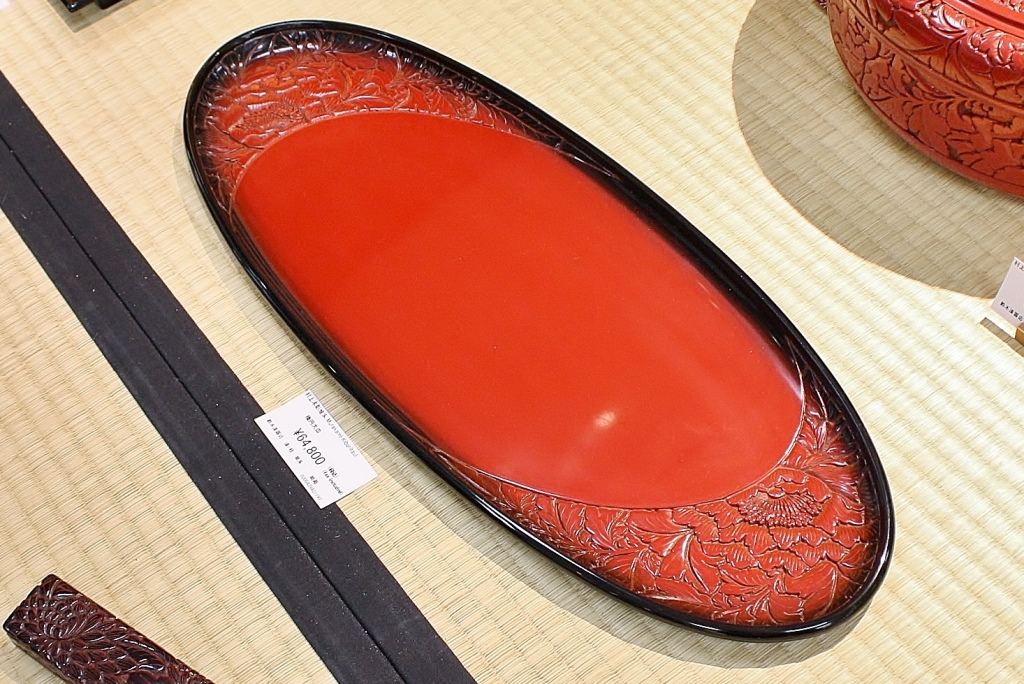 Aoyama is square; "was exhibited by skill - "of Murakami Kibori Tsuishu exhibition - Echigo Murakami tradition, but Suzuki usually makes product in Suzuki Laquer Ware shop.
As you accept custom tailoring, you put design when you can say when there is design to want you to write and may make.